Sherlock-300F
Setting free type (Desk top type)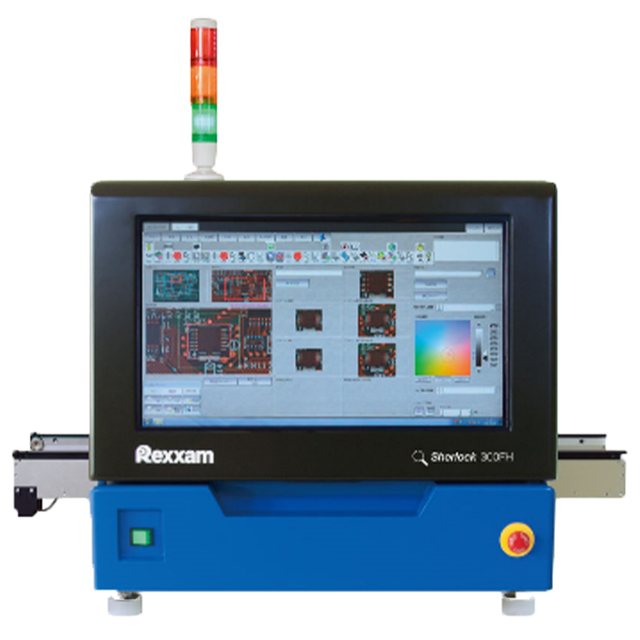 Setting Free Desk-Top type
Compact desk-top type that can be installed at any place. Also connection with up/downstream and level adjustment are not necessary.
Simple inspection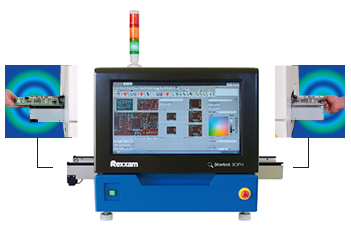 The desk-top type AOI with PCBA automatic loading mechanism, which you do not need to open/close the door.
All operations can be performed with 21.5 inche touch panel attached in front of the device.
No cause for worry about operation procedure of keyboard and mouse, and installation site.
Shortening of teaching by 1/3 (our conventional ratio)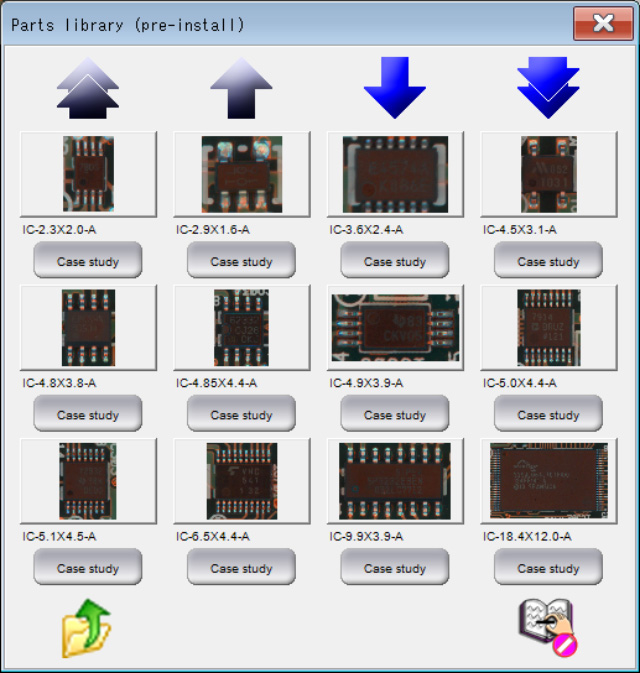 Pre-installed library
Programming is easier by using the pre-populated part data (preinstallation library) as well as mount data and CAD data.
Navigation mode
Support of making teaching date in navigation mode. The next operation is obvious at a glance because the recommended next step is colored.
Specifications
*Please see the table by scrolling horizontally.
PCBAs to be inspected
M size
○
L size
-
Dimensions
50mm (W)×50mm (D) to 330mm (W)×250mm (D)
Thickness of PCBA
0.5 to 2.0mm
Maximum weight of PCBA
1kg
Height limit of PCBA
(Clearance)
Upper side
25mm (Resolution:12.4μm/pixel)
30mm (Resolution:18.7μm/pixel)
Under side
70mm
Resolution
12.4μm/pixel
18.7μm/pixel
(Selected before shipment)
Minimum components to be inspected (JIS)
0402 (Resolution:12.4μm/pixel)
0603 (Resolution:18.7μm/pixel)
Inspection speed
5,000mm2/s
(*in case of resolution:18.7μm/pixel)
Main inspection items
Component inspection
Missing parts, displacement, defective standing,
polarity, foreign objects, wrong parts, inversion,
character recognition (OCR)
Solder inspection
Excess, insufficient, unsoldered, bridges, solder ball
Imaging range
25.4mm×13.5mm (Resolution:12.4μm/pixel)
38.3mm×20.3mm (Resolution:18.7μm/pixel)
Depth of field
6mm (Resolution:12.4μm/pixel)
10mm (Resolution:18.7μm/pixel)
Repeatability of positioning
±50μm
Camera
2M Pixel
Lighting
RGB + warm white LED
Structure of imaging unit
Optical system with the object side telecentric lens
Flow direction of PCBA
Right to left
Driving system of imaging unit
High rigidity biaxial driving
PCBA clamping unit
Air clamp
Width adjustment for transferring conveyor
Automatic
Passline
-
Reference position for PCBA width
Front
Monitor
21.5" touch panel display
PC
OS
Windows 10 Pro 64bit
Japanese/English (selected before shipment)
Memory
8GB
Interface between equipments
-
Environment conditions for operation
10 to 35℃/30 to 80%RH (no condensation)
Environment conditions for storage
-10 to 60℃/30 to 80%RH (no condensation)
Power supply
AC100 to 240V ±10% (single phase)
50/60Hz
Compressed air consumption
Compressed air :0.5MPa
Air consumption :5Nℓ/min
Dimensions of main unit
(excluding protruding portion)
W620×D758×H594mm
Weight (excluding PC)
92kg
*Please see the table by scrolling horizontally.