Sherlock-300R
In-line type with back-side inspection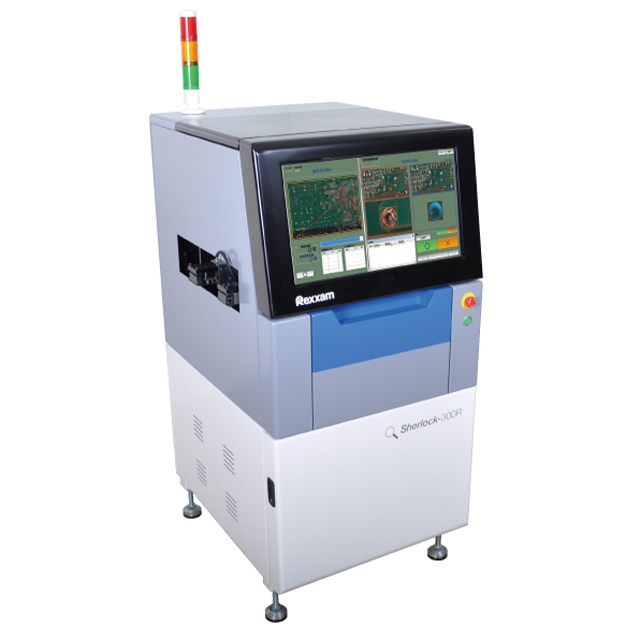 Click here to see the features of Sherlock series
Inspection items dedicated to flow surface

The feature to create the insection data specific for the flow surface is loaded. Easy settings, and capable of inspecting solder amount, lead condition and bridge between lands.
No need of PCBA flip machine!
PCBA flipping process is skipped because the camera is incorporated underneath the machine. In addition, speed-up and space-saving are achieved.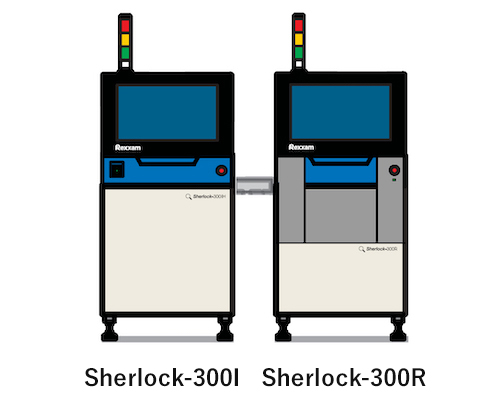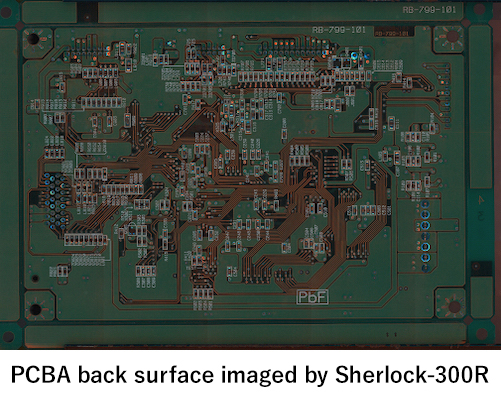 One-click can create the inspection data of whole PCBA

The inspection data of whole PCBA is created by clicking the land area after inserting a raw PCB.
※ Also, capable of parts inspection same as 300 series.
The heat-resistant conveyor is loaded
The high-temperature PCBA, which is right after soldering, can be conveyed without cooling-down period by adopting the metal conveyer.
Specification
*Please see the table by scrolling horizontally.
Inspecting PCBA
M-size
○
L-size
-
Size
100m (W) x 80mm (D) to
330mm (W) x 250mm (D)
Thickness of PCBA
0.5~2.0mm
PCBA maximum mass
2kg
PCBA height limit (clearance)
Top surface
75mm
Bottom surface
25mm
Resolution
18.7μm/pixel
Minimum inspection component size (JIS)
0603
Inspection speed
5,000mm2/s
Main inspection item
Component inspection
Missing part, wrong part, displacement, part number, shape and dimension
Solder inspection
Excess, insufficient, unsoldered, bridge
Imaging range
38.3mm×20.3mm
Depth of field
(according to the company regulation)
10mm
Repeatability of positioning
±50μm
Camera
2M Pixel
Lighting
RGB + warm white LED
Structure of imaging system
Object side telecentric optical system
Flow direction of PCBA
Left ← Right / Left → Right (selectable at the time of shipment)
Conveyance method
Metal chain
PCBA clamping unit
Air clamp
Width adjustment for transferring conveyor
Automatic
Height of conveyance unit
920±50mm
Reference position
for PCBA width
Front
Monitor
Display with 21.5 inch touch panel
PC
OS
Windows 10 Pro 64bit
Japanese / English
(language is selectable at the time of shipment)
Memory
8GB
Interface between equipments
Conformance to SMEMA standard
Environment conditions for operation
10 to 35℃ / 30 to 80%RH (no condensation allowed)
Environment conditions for storage
-10 to 60℃ / 30 to 80%RH (no condensation allowed)
Power supply
AC100 to 240V (single phase)
Air supplied
Pressure: 0.5 Mpa
Consumption: 5Nℓ/min
Dimensions of main unit (excluding protruding portion)
W620×D758×H1,294mm
Weight (excluding PC)
180kg
*Please see the table by scrolling horizontally.