Product Introduction
We provide the AOI "Sherlock" series having functions and specifications required in our own domestic and overseas factories producing 15 millions of PCBA a year with overwhelming cost performance.
Coexistent of Solder Inspection and Parts Inspection
Sherlock series can inspect widely from solder fillet of the small tip parts to large parts or the solder fillet of the small tip part with a high degree of accuracy and at high speeds.
Sherlock series can be introduced in any visual inspection process, even before and after reflow processes or in the final inspection process.
1.RGB illumination enables high-speed inspection of solder fillet.
RGB illumination which colors the land of fillet in red and the slopes in green or blue, enables the simultaneous imaging of a flat face and the slopes, and also realizes high-speed inspection.
Schematic diagram
of RGB lighting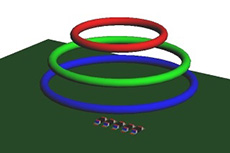 Schematic diagram
of solder fillet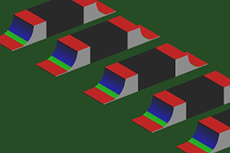 Image with RGB lighting
(Solder inspaction)
2.Electric bulb-colored LED enables high-precision inspection of part color and part number.
By introducing an electric bulb-colored LED which enables near-human color judgment, high-accuracy inspection of the resistors color-bar and connectors colors can be performed.
Schematic view of electric bulb-colored illumination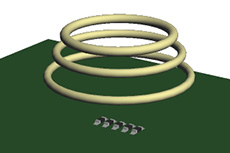 Part inspection: Comparison of images with different lighting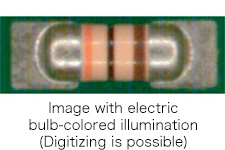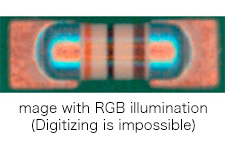 3.Simultaneous inspection of tall parts and very small tips is possible.
The telecentrick optical system with a deep depth of field (DOF), which is exclusively developed by Rexxam, enabled the inspection of the part number and polarity on the surface of tall parts.
Image taken by telecentrick optical system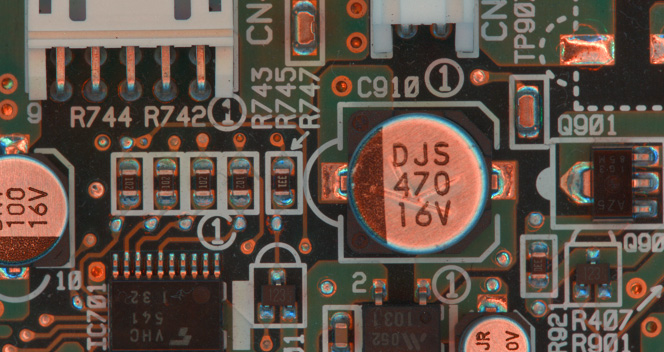 Image taken by normal optical system