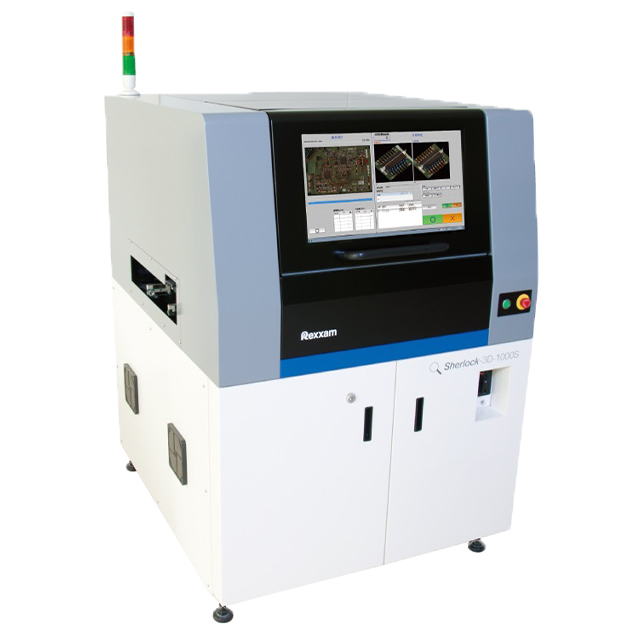 Inspection speed of 5,000mm2/sec. which is top class speed in this industry
High resolution of 12μm is realized with the high inspection speed same as a 2D AOI. 3D inspection for the fillet volume of solder and floating of parts is available with the tact time almost same as that of 2D AOI.
Float inspection of tall parts is possible
Multi scanning system enables measurement of the whole measurement range up to 20mm in height at height resolution of 12μm. Even fine float is detectable. Not only lead float of the IC parts but also the fine float of the large parts such as electrolysis condenser and connector.
1 click data creation is possible
Automatic data creation function for major parts such as chips and QFPs to supports the teaching operation with no library data. Time for the data creation can be shortened to less than half compared with the ordinary way.
Specifications
*Please see the table by scrolling horizontally.
PCBAs to be inspected
M size
○
L size
○
Dimensions
50mm(W)×50mm(D) to 510mm(W)×460mm(D)
Thickness of PCBA
0.3 to 4.0mm
Maximum weight of PCBA
3kg
Height limit of PCBA (Clearance)
Upper side
30mm
Under side
20mm
Resolution
Horizontal resolution:24μm(3D)、12μm(2D)
Height resolution:12μm
Minimum components to be inspected (JIS)
0603
Inspection speed
5,000mm2/s(3D+2D)
Main inspection items
Component inspection
Lifting of lead, lifting of parts, missing parts, displacement, defective standing, polarity, foreign objects, wrong parts, inversion, character recognition (OCR+OCV)
Solder inspection
Volume of solder, excess, insufficient, unsoldered,
bridges, solder ball
Imaging range
49mm (width of scan)
Depth of field
5mm
Repeatability of positioning
±7μm
Camera
12M Pixel
Lighting
RGB + warm white LED
Structure of imaging unit
Optical system with both side telecentric lens
Flow direction of PCBA
Right to Left/Left to right
(selected before shipment)
Driving system of imaging unit
Ball screw biaxial driving
PCBA clamping unit
Air clamp
Width adjustment for transferring conveyor
Automatic
Passline
920±50mm
Reference position for PCBA width
Front
Monitor
21.5" touch panel display
PC
OS
Windows 10 Pro 64bit
Japanese/English (selected before shipment)
Memory
32GB
Interface between equipments
Conformance to SMEMA standard
Environment conditions for operation
10 to 35℃/30 to 80%RH (no condensation)
Environment conditions for storage
-10 to 60℃/30 to 80%RH (no condensation)
Power supply
AC200 to 240V ±10%(single phase)
50/60Hz
Compressed air consumption
Compressed air :0.5MPa
Air consumption :5Nℓ/min
Dimensions of main unit
(excluding protruding portion)
W985×D1,100×H1,400mm
*in case of the pass line 900mm
Weight (excluding PC)
354kg
*Please see the table by scrolling horizontally.